Company Profile
JAY M. HEAP & ASSOCIATES, LTD. is involved exclusively with real estate valuation and consulting. Beginning in 1979, the firm's clientele include individuals, attorneys, corporations, estates, banks, savings and loans, AMC's, mortgage companies, insurance companies, federal and circuit courts, and various governmental bodies. Appraisal assignments have included, but are not limited to, the following:
•

Vacant Land


•

Farm Land


•

Single Family Residential


•

Multi-Family Residential




•

Commercial


•

Light Industrial


•

Heavy Industrial

•

Subdivision Analysis




•

Partial Interests


•

Partial Takings


•

Feasibility Studies


• Rental Surveys
• Market Studies


•

Special Use Reports
JAY M. HEAP & ASSOCIATES, LTD. primary service area includes Grundy County, Will County, Kendall County, DeKalb County, Kankakee County, Iroquois County, Livingston County, McLean County, Bureau County, Marshall County, LaSalle County, Ford County, Putnam County and DeWitt County.
All appraisal work is performed by an appraiser who holds the State of Illinois and/or the State of Missouri Certified General Real Estate Appraiser license.
Jay M. Heap is experienced and qualified as an expert witness in litigation matters relating to condemnation, zoning, tax appeals, estate matters, divorce and partition suits.
JAY M. HEAP & ASSOCIATES, LTD. has Illinois Department of Transportation approved appraisers, reviewers and negotiators capable of performing acquisition services for any federal, state, county, municipal or local government agency.
JAY M. HEAP & ASSOCIATES, LTD. is a certified Female Business Enterprise.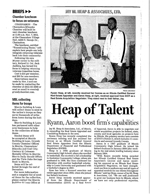 in the news...
(click to enlarge)